The Fly Fishing Film Tour
This is an annual celebration of life on the water. The editors compile film from all over the globe then travel the globe showing fishing-starved people like us just how beautiful fly fishing can be. The only Rhode Island showing is on March 1 at the Agawam Hunt Club in Rumford. This film is guaranteed to make you crazy for Spring.
Getting a new license

Rhode Island fishing licenses expire at the end of February and trout fishing is closed for the month of March in stocked waters.  To get new license and trout stamp, we need to visit a tackle store or town hall. DEM has their super easy internet site but in all honesty, I miss going to Benny's. Historically, it took at least three trips; either the state hadn't dropped the new licenses off yet, the nice person behind the counter couldn't find the book, there were no trout stamps or well, mostly it was because the state hadn't dropped off the new licenses yet. That said, it was something of real joy, walking out the door, past the coughing clutch of workers chain smoking Pall Malls, holding that new red plastic case, knowing that whatever the weather was that day, in a few weeks you'd be in a boat or walking a stream, hoping for that first Opening Day fish.

The 16th Annual New England Saltwater Fishing Show
RISAA returns to the Providence Convention Center on the weekend of March 22 to the 24 and this really is the highlight of the winter show season. RISAA packs in  240 vendors who will offer every possible option for lures, rods, reels, scents, line, terminal tackle, hooks and boats. There will be accessories from Scotty Plastics, boats from Boston Whaler and charter captains like Big Game but for my money, not much beats a trip to The Worm Bar and The Jerky Hut. The RISAA show has a really wonderful quirky side. You can see Bill Hurley walking around then dunking his lures into a giant column of water, load up on a dozen different types of jerky and chocolates and even score a few pairs of polarized sunglasses. That's a lot of fun in the middle of winter. Friday is Military Appreciation Day which means the first 300 military and veterans get in for free, as a thanks for all they've done to keep us safe. Sunday is Family Day, so all women get in free and kids 12 years and younger get in free all three days.

Kayak Fishing Seminar with Ocean State Kayak Fishing 
On 
Saturday, March 30 at 10 a.m. you should head to The Kayak Center at 70 Brown Street in Wickford to learn from some of the best in the kayak fishing realm. Jimmy Chappel, Ian Clark and all the administrators of the Ocean State Kayak Fishing group will host a few hours of talks on lures and tactics for catching and maybe releasing, stripers, fluke, bonito, bonita, black sea bass and using Hogy Soft Plastics to call up Spring stripers.
Ian said, "We're basically all talking about the types of fishing that we enjoy the most. We have a pretty extensive lineup of fishing opportunities this great state has to offer!" What more lure do you need to get out of the house and learn more about kayak fishing from some of the best?
There's a raffle at the end with lots of big name and very local lure makers.
Opening day
The Second Saturday in April is pure magic on a cold day. Ponds, rivers and secret streams will host thousands of hopeful anglers, some who fish all year, some only the one day. It matters not, the day is all about tradition, chance and maybe trout with bacon later on. RIDEM will stock rivers and ponds in advance with browns, rainbows and brookies so there should be lots to catch.
There's a solid push to end stocking hatchery trout in waters where native populations exist, especially since the browns and rainbows are non-native species. Up in Maine, the Saco Valley Chapter of Trout Unlimited, which supported and assisted with hatchery stocking for years, has "resolved to discontinue its supplementary stocking program in the Saco River. This decision was made after lengthy internal debate and in accordance with Trout Unlimited national conservation policies. Collectively, we have decided to forge a new path forward in the Mount Washington Valley's cold-water fishery and work toward a goal of promoting wild trout and a self-sustainable fishery where ever possible."
That's pretty admirable and something to watch for here in our state.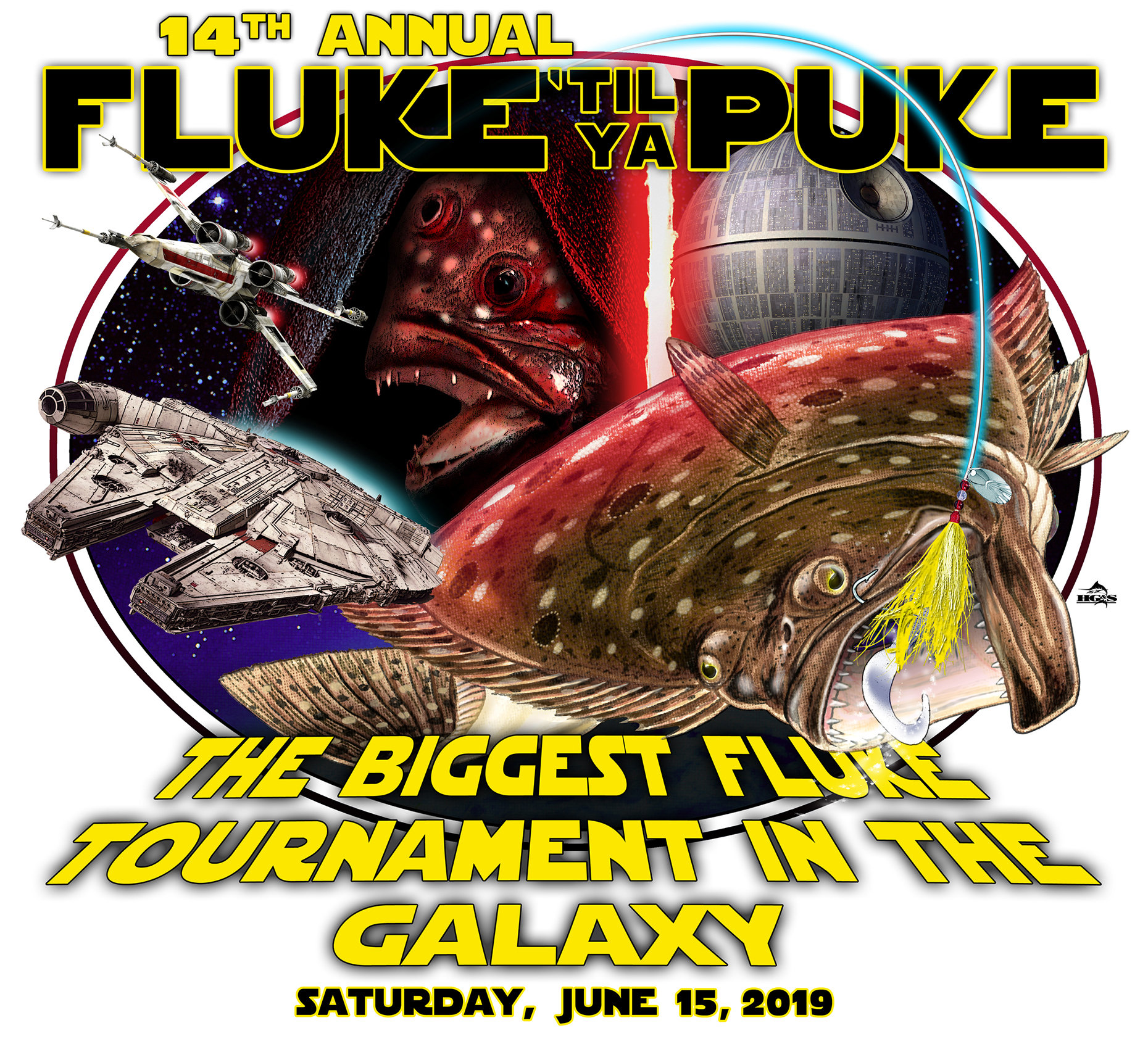 Fluke Til 'Ya Puke
Although it doesn't happen until June, anticipating this will definitely help get us through the snowy days of February and those long, messy days of March. Now in its thirteenth year, the crew at Big Game Charters have built the biggest, coolest fishing tournament anywhere. The big draw, besides a killer barbecue, might be the $5000 first prize for the biggest fluke. There's a captains meeting on Friday, the 15 and lines go in at 5:00 am on Saturday. This year, they are bringing back the kayak division. Kayakers are eligible for the big money prizes and for those fishing only in that division, there will be a separate cash prize. So the more kayakers who enter, the higher the purse. That's pretty cool. So see? There really is quite a lot to look forward to on a cold winter day.